Antennas Technology
Antenna functionality is characterized by Frequency Range, Gain, Directionality, Angle, and Polarization.
Frequency Range defines the radio bands that are supported by the antenna. Syscor's products operate in the 2.4 GHz Industrial, Scientific, and Medical (ISM) radio frequency band, which is a portion of the radio spectrum designated for license-free operation.
Gain is expressed in dBi and defines the maximum radio signal amplification that the antenna can achieve in any direction. High-gain antennas establish strong RF links. Typically there are trade-offs between gain, directionality, angle and physical antenna size.
Directionality describes the special distribution of the RF energy that radiates from the antenna. Directionality is visualized by plotting the maximum antenna gains in all special directions. An omnidirectional antenna radiates with equal strength in all directions, but since it distributes the RF energy uniformly through space, it is not able to support long range communications. In contrast, a highly directional antenna concentrates most of the RF energy into a tight beam that can reach much further than an omnidirectional antenna.
Antenna Angle, sometimes referred to as vertical beamwidth, defines how the RF energy envelope expands vertically as it travels away from the antenna. Antenna angle also determines the boundaries of the line of sight characteristic for a specific antenna. For example, if antennas with identical angles are placed at the same elevation, they would always be within line of sight. If, however, one of the antennas is elevated, then the antenna angles become a factor in establishing line of sight, and antennas placed too close together will not produce good reception. Moving the antennas further apart or tilting them will re-establish the line of sight.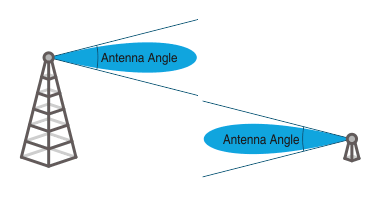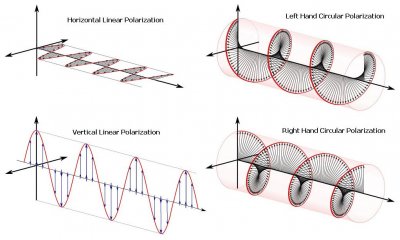 Antenna polarization is determined by the direction in which the electrical component 'E' of the RF signal oscillates as it propagates through space. If 'E' oscillates in a single plane, the antenna is classified as 'linearly polarized.' If E rotates through space, the antenna is classified as 'circularly polarized.' The polarization of the transmitting and receiving antennas must match to establish a link. Polarized antennas reject RF distortion/fading caused by RF multipath issues, which is a complex phenomenon typically caused by the presence of significant metal structures near the antenna. Storage terminals, tanks, and refineries are examples of facilities where Syscor relies on circularly polarized antennas for establishing reliable RF connectivity.
Where they are used
Antennas are used on Syscor's WirelessHART devices: